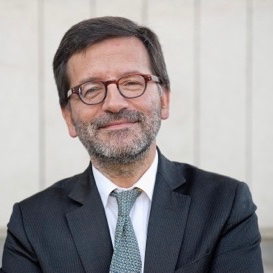 Benoît Quignon was National Representative of BEST from December 2014 to December 2015.
Interviewed in April 2015.
What is the purpose of the BEST network?
To share experiences and to think about what makes local public organizations perform well. The originality is that discussions are always enlightened by other European experiences. Perhaps what strikes me most is the quality of the contributions and the fact that all participants are called upon to share their thoughts. As chief executives of large local authorities, the bond of trust between us is essential because it allows us to speak very freely. For once, we are not speaking in an official capacity, and that does us a lot of good.
What do you discuss during the meetings?
Each meeting focuses on a theme chosen several months in advance. We "dissect" it from all angles, based on our experience as practitioners and as informed observers. The choice of topic is often a continuation of the work of the previous meeting. For the moment, we have no lack of ideas! Each topic always has a technical or legal dimension, but we go beyond that because what interests us, as managers, is the strategic and specifically managerial dimension of the subjects, which is at the heart of our concerns. We plan to organize a public debate on the management of large local authorities from a managerial perspective, rather than a technical or political one. It's an essential aspect that is rarely discussed.
What do you learn from the European benchmark?
The testimonials of our European guests help us to step outside the French institutional framework. It is always enlightening to see how other countries, facing the same issues as us, are approaching them in very different ways. Their insights free our imagination, give us ideas and sometimes make us humbler. The discussions are very stimulating. One of our projects is to organize an immersive meeting in a European city.